Happy Wednesday everyone! It's a happy Wednesday for me because I've been chosen as Vintage Blog of the Week by Diana from
Adirondack Girl at Heart
. I'd love it if you could take a moment to visit Diana to say "hello" and to check out my feature.
Diana has been blogging for just over a year now, and she always has something wonderful to share. I really enjoy reading about her latest vintage finds, junking adventures, family life, and especially her visits to historic towns and sites. Her incredible photography always makes me feel like I'm right there!!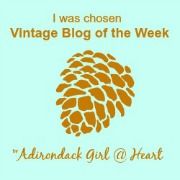 Thanks so much, Diana for featuring My Salvaged Treasures this week. It's always an honor
to be recognized for doing what we love to do!